GSF Projects Showcase Undergraduate Research Through Documentary Filmmaking
The centennial of the 19th Amendment, which gave women the right to vote, and an election year in which more women than ever were running for political office made this fall an ideal time to study "Women in the Political Process" at Duke.
But when undergraduates signed up for the Gender, Sexuality & Feminist Studies course, they didn't know they would be getting a lesson in documentary filmmaking, too.
Originally published by the Trinity College of Arts and Sciences.
"As I was putting the finishing touches on the syllabus, Center for Documentary Studies Director Wesley Hogan reached out to me to talk about how we might more effectively integrate documentaries into college teaching," said Jocelyn Olcott, professor of History and chair of GSF. "What started out as a conversation about watching documentaries quickly turned into one about making them."
Women in the Political Process is offered each fall of an election year based on the terms of a gift from the Ruth Huffman Carr Endowment – funding which made it possible for Olcott to bring in two additional instructors.
One was Lauren Henschel, a double Duke alumna who earned her BA in Visual Media Studies and completed an MFA in Experimental and Documentary Arts this spring, culminating in a thesis exhibition that explored physical vulnerability and mortality. She led the filmmaking effort while Martha Liliana Espinosa – a PhD student in History – mentored students and helped ensure their creations were grounded in robust research.
"(The students) worked incredibly hard…to produce what is really an astonishing collection of documentary shorts," Olcott said at a virtual film festival for the course in November.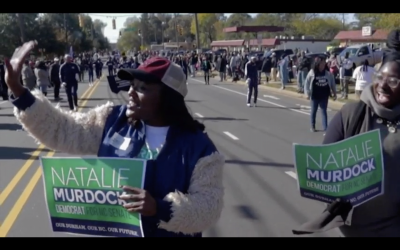 "We set a rule at the beginning that nobody could follow Kamala Harris…but I was just fascinated to see the range of races," she added. "The different kinds of races from Soil and Water Commission to the Maine Senate race made it really interesting."
Students enrolled in the course had varying reactions to the research process and to the content they created as a collective.
"As a student who has been taught to really be objective and try your best to fairly evaluate, when writing a documentary that is so heavily influenced by my own biases, I found it really hard," said Zoe Gezelter. "Coming to terms with those in a way that I hadn't in an academic setting was really helpful and useful and very valuable."
Several students remarked that the course readings and their projects changed the way they view politics and the media.
"I just really saw all of the obstacles women face when entering the realm of politics," said Satya Khurana. "I had always known they existed – that there was sexism and, for women of color, that there was also racism…But just seeing how often it happened, following these candidates' social media pages, following the comments under their YouTube videos and campaign ads. It was kind of incredible just to see how much hate they face in an effort just to try to make change."
"I feel like I've become so much more of a critical consumer," said Avery Edward. "We've been able to see those stereotypes and stigmas all play out in the real world and how these female candidates…combat those inhibiting ideals to kind of challenge the norms and push for progress. When I'm scrolling through Instagram and see all the ads pop up for candidates, I now can see those in such a different light."
For some, the work resulted in a new or deeper understanding of politics, from the importance of local elections to how gender is only one factor influencing how a candidate might govern.
"I kind of had this naïve idea that any woman in politics was going to be good for women," said Kathryn Thomas, who followed the U.S. Senate race in Maine between incumbent Susan Collins and challenger Sara Gideon. "It's not always more women equals better representation. It's how they choose to take that power and that responsibility and how other factors – perhaps most notably, religion – play into that."
Regardless of who they followed and the outcome of any particular race, the lasting impact of the research experience was clear.
"Even just the existence of women in these spaces is an act of resistance in itself…before you actually get into the meat of the issues," said Nii Engmann. "Being there is almost threatening, but threatening in a way that progress is being made."
"A lot of these candidates are younger women who are coming into politics to make a change," concluded Rachel Washart. "It was very inspiring even though there's a large uphill battle that women are facing. Now I want to go out there and do stuff in the realm of politics."
Full list of student films and their creators:
"Natalie Murdock: Earning Her Seat" by Avery Edward
"New Faces" by Merrit Jones and Juliette Clark
"Donna Shalala 2020: What Changed?" by Isabel Wood
"Small State on the National Stage: 2020 Maine Senate Race" by Lizzie Bernstein, Jessica Falbaum, Milla Surjadi, Kathryn Thomas and Talya von Planta Newman
"The Life of the Party: Partisanship in Indiana's Second" by Zoe Gezelter
"Cori Bush: Protestor to Politician" by Rachel Washart
"Black Women and the Politics of Respectability" by Malynda Wollert, Bella Nowroozi, Isabelle Kohn, Satya Khurana and Gareth Kelleher
"Lori Trahan: Working for the People" by Brooke Heinsohn
"Swing State Battle: Betsy Rader for Ohio" by Lilly Kelemen
"The American Dream, Deferred" by Nii Engmann
"Climb to the Glass Ceiling" by Chloe Beittel, Bryn Lawson and Francesca Maglione
Editor's note: The films are not available for viewing due to agreements that the students made with many of the featured candidates and their campaigns.