Garden Rounds: With Sonali Biswas '18
The School of Medicine Annual Fund makes many of Duke's most transformative experiences possible for those training to be future leaders in science and medicine. These amazing experiences have shaped Sonali Biswas '18 on her quest to become a different kind of doctor at Duke.
Sonali Biswas '18 is a product of the only-at-Duke experiences we talk so much about at the School of Medicine. She's a Raleigh native who moved to the Triangle in 2003 with her family. Her father is a doctor and her mother and brother work in the sciences — so it only made sense that Sonali choose an undergraduate university with a great medical program and hospital system. 
"Duke undergrad was an absolutely wonderful place to be. I got to study abroad. I got to do DukeEngage," says Sonali. "So many other experiences I had at Duke were super impactful to making me want to become a doctor." 
As a Duke undergraduate, Sonali majored in biology, following the pre-med pathway. She was involved with different groups on campus and was attentive to the stories of her fellow classmates about their experiences. There was always so much going on, and Sonali wanted to explore everything Duke had to offer to maximize her potential. 
One of the activities she most enjoyed being a part of was the Me Too Monologues, an annual show about identity at Duke which is entirely written, produced and performed by the Duke community. Students anonymously submit their true stories, and then other students perform those stories in front of a live audience as if the stories were their own. 
The Me Too Monologues have now been going strong for more than 10 years at Duke, part of the rich and growing culture of Duke Arts. 
"You really get to hear unheard perspectives from campus," says Sonali. "My first year at Duke, there was a culture of going to these performances. Each show was 400 to 500 people in attendance — so a significant portion of the undergraduate body went." 
In her second year, though she had never done any theater or acting, Sonali decided to give it shot. She became involved with the monologues and was eventually cast to perform. By her senior year, Sonali was helping to produce the show and make it even stronger. 
"Understanding people's stories is a huge reason why I wanted to become a doctor," Sonali says. 
Part of her interest in storytelling also stems from a rare bone condition that Sonali grew up with called osteogenesis imperfecta. After hearing stories of people her age facing tough challenges or feeling marginalized, Sonali soon realized that the telling of her own story to the physicians she visited was critical to receiving a level of health care necessary to meet her needs.  
After that, Sonali saw health care differently. Communication was no longer a barrier to better service but a tool to be utilized by medical professionals. 
"The whole theater program was about advocacy — and also really understanding the multiplicity behind people," Sonali says. "It reminded me of times that I interacted with doctors who didn't ask much about how disease had impacted my life." 
Acting out these stories on stage illustrated to Sonali how self-advocacy, or reflective storytelling, could be useful to real patients who potentially had gaps in their health care.
Listening to Life Experiences


 
After finding her way through the liberal arts at Duke and coming back to attend the Duke School of Medicine for the past two years, Sonali sees all of her interests coming together as one. 
"Doctors are in a unique and privileged position where patients are honest and tell us difficult things. It's just a matter of knowing how to ask and then how to retell what they're sharing with us in a way to advocate for them," Sonali says. 
Sonali has never second-guessed coming back. She feels that Duke School of Medicine has been a supportive, wonderful environment for her medical education. And she wouldn't have it any other way. 
"It's definitely a very unique med school because you have an accelerated curriculum. We are lucky to get a lot of patient exposure and a lot of personal mentorship," Sonali says. 
Duke School of Medicine is unique in the fact that medical rotations for students start in the second year, as opposed to the third year at most other schools. This is beneficial to students because it grants them the opportunity to see patients and be a part of patient care early on — enabling them to see medicine playing out in the real-time.  
"We get out of the classroom and into the hospital as early as possible," says Sonali. "It's great for our personal development in terms of getting exposure to more specialties within medicine early on." 
The sequencing of everything is critical to what types of doctors these students will eventually become. Generally, they apply to residency during their fourth year. But by having a year off after clinicals, Duke med students have plenty of time to explore and figure out the best path forward before residency, ultimately leading to better career placement and patient outcomes.
You can listen to its heart. It gives us the ability to reenact allergic reactions or diabetic ketoacidosis. We can learn how patients may feel while still being able to make mistakes — and learn from them.
-- Sonali Biswas '18
After ruminating on storytelling and medicine, Sonali and another med student went to one of their favorite medical professors, Dr. Ray Barfield, professor of pediatrics and director of medical humanities in the Trent Center for Bioethics, Humanities, and History of Medicine. They had a bold idea to share with him. 
They told Barfield about the success of Duke's undergraduate theater program and then drew comparisons to how doctors are given patient stories and are responsible for retelling them in ways that advocate for the patient. Barfield was all-in on the idea. 
Next, they designed a medical course around storytelling where they taught med students the same thing. Within the context of the class, these students wrote a story, which was then anonymized, and someone else in the class had to perform their story. The process was meant to mimic what patients do all the time and show how scary it can be. 
"Duke made all that possible. Dr. Barfield was so open to us proposing a curriculum and he gave us so much autonomy so early, which I feel like has been really representative of my Duke experience overall," Sonali says.  
With COVID-19 restrictions in place and less time with patients as a student, getting onto the wards hasn't been easy, says Sonali. Sonali has been busy elsewhere, listening and learning. 
Another area Sonali shares that has been an important tool to her medical education is the state-of-the-art simulation labs in the School of Medicine, which includes the Duke Human Simulation and Patient Safety Center. The Medical Annual Fund fuels programs like these labs.
In the sim labs, medical students interact with mannequins that can talk. They can read a mannequin's blood pressure and take its pulse, among other vital signs, like they would a real patient. 
"You can listen to its heart," says Sonali. "It gives us the ability to reenact allergic reactions or diabetic ketoacidosis. We can learn how patients may feel while still being able to make mistakes — and learn from them." 
Spatial Healing


 
When she's not listening to patients or making medical rounds, Sonali likes going to the Durham Farmers' Market and trying one of the many new restaurants in town. She also loves to enjoy an afternoon in the Duke Gardens among the flora and foliage. 
In the featured picture taken in fall 2019, Sonali was highlighted in the Sarah P. Duke Garden's 2019 Growing magazine and annual impact report. Along with her photo, Sonali wrote an essay talking about how the tranquility of the gardens gives her a chance to reset.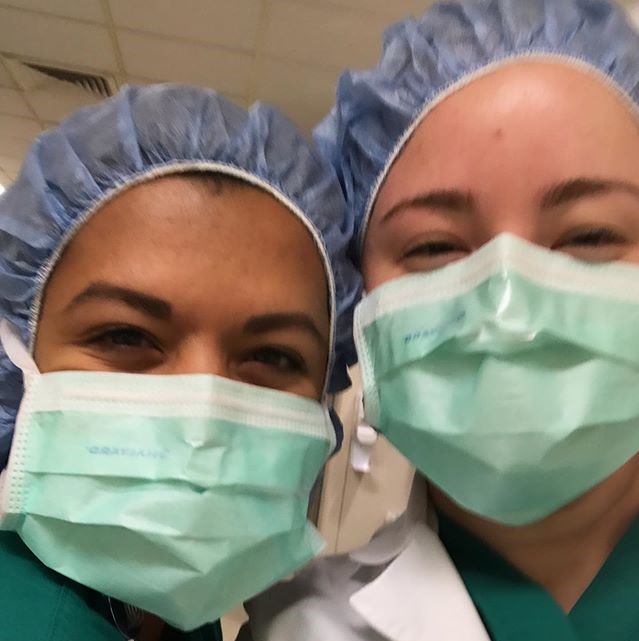 "The Duke Gardens are so important to me," says Sonali. "They used to be a five-minute walk from my dorm in undergrad. And now they're a 10-minute walk to the hospital. It's a great place to slow down and take stock." 
Being in a natural outdoor setting has helped Sonali reflect deeply. As a medical student, so much time is spent going back through patient records and talking about future prognoses. 
"It's really easy to dissociate," says Sonali. "There are so few windows and it can be jarring." 
The gardens help her revert to nature and its beauty, a beauty we all share. While there, she can grasp how time passes differently in each season. She watches the sunlight shift through the trees. It keeps her grounded and mentally well, so she is always able to reflect back on and retell her patients' stories in the best light. 
Ever aware of her surroundings, of course Sonali knows much of this is made possible by the Annual Fund and the generous Duke donors who support it. 
"Giving to the Annual Fund has impacted my experience at Duke in more ways than I am even aware of," she says. "Making the gardens free and accessible as a place to restore health is incredible, along with a lot of other programs capitalized by donors." 
"For those who are aspiring to a career in medicine," Sonali continues, "my advice would be to never underestimate all of the places from which you can learn to be a good doctor. Some of my best lessons came from theater and having my own illness." 
Sonali wants those interested in medicine to keep their learning broad and to have an open mind to what every field and discipline has to offer. What better place to do so than Duke.