Philanthropy Is Best as a Team: Sarah Redfield Ryland '87, P'20, P'22
The Duke Women's Impact Network (WIN) is dedicated to celebrating and accelerating the power of women's philanthropy, a passion of Sarah Redfield Ryland '87. She and her husband Kyle Trivitt Ryland '87, P'20, P'22 have a long legacy of supporting causes they believe in. Over the years, their involvement with Duke has been inspiring and unwavering, so when the Rylands heard about the fledgling Duke softball program, they were eager to pitch in.
Sarah came to Duke by way of the West Coast. She attended an all-girls school in Palo Alto, California. The school, Castilleja, was founded in 1907 by the encouragement of Stanford University's first president to provide a comprehensive preparatory college education for young women. The headmaster at Castilleja also happened to be a Duke alum — and every year it seemed one of the school's graduates went on to Duke.
Sarah was the ambitious and talented student chosen in 1983, yet when she arrived in Durham, it was so geographically different and diverse from the Bay Area that she wanted to return home to attend the University of California, Berkeley. Her father insisted she stay at Duke, stressing to Sarah how important the experience would be.
"I am thankful for his guidance. Learning to adapt to new situations is part of a college education and skill set that carries with you forever," says Sarah. "Attending Duke was one of my most memorable experiences."
Soon, Sarah saw Duke for what it was: a marvelous opportunity to challenge herself, grow as an intellectual, and to expand her connections and understanding of the world.
In her senior year, Sarah took an Introduction to Architecture course, where her life changed again. Kyle was in her class and they had an instant connection. Studying for the final exam together, they got a good laugh deciding whose notes were more legible. In fact, it was through this joint academic experience that they realized a shared appreciation for the aesthetics of design and travel, especially to other countries.
Looking back, Sarah says it seems like there was life pre-Duke and then life post-Duke, with the four years in between being a unique, once-in-a-lifetime transition.
Throwing out the First Pitch
 
Leaving with a bachelor's degree in political science, Sarah built a successful career in human resources. She specialized in recruitment during high growth periods at Tiffany & Co., Montgomery Securities, and Oracle Corp. She then focused on executive search for the technology sector at Korn Ferry in San Francisco. Sarah has also been involved with a number of nonprofits that support children, education and conservation, areas of great interest to her. She was the founding member of the parent auxiliary for the Peninsula Bridge Program, a Palo Alto nonprofit that prepares highly motivated, low-resource students for high school and college.
Sarah's connection to Duke strengthened serving as a member of the Trinity College of Arts and Sciences Board of Visitors from 2012-2018. While on the Trinity board, Sarah and Kyle met new friends, reconnected with old ones and became part of a vibrant alumni leadership network. As board members, they gained an insider's perspective on how Duke had evolved from the university they attended, while remaining an institution dedicated to continuous innovation.
"What was most impressive about being on the board," says Sarah, "was seeing firsthand how committed Duke is to being a highly ranked institution, engaging in new endeavors. Duke is not one to rest on its laurels."
What Sarah and Kyle didn't know was just how much the issues they discussed on the board would soon be applicable to their own children's collegiate experience.
After seeing the impact Duke had on Sarah and Kyle, their two children Connor and Claire chose to attend Duke on their own initiative. Connor is a member of the Class of 2020 and Claire enters her junior year in the fall. Although Connor missed some of his senior year due to COVID-19, Sarah and Kyle encourage them both to lean on the Duke community during this difficult time for all.
"Our family is quite close and we rely on each other's support and company in these unsettling times," says Sarah. "As the kids get older, time together becomes shorter and less often, so we are enjoying each other's company, blessed to all remain in good health."
It is important that our giving has a real impact. Our gift to the Duke softball program supports women's athletics and meets our family's goals.
– Sarah Redfield Ryland '87, P'20, P'22
By good fortune, the Rylands are now spending this time together at their home in Hillsborough, California. They take long walks with their new dog Sydney, play cards, and enjoy lengthy discussions over family dinners. When they can, they get outdoors to hike, bike and take in sights on the beach.
Playing With Passion
 
In the 12 years they've spent becoming reacquainted with all things Duke, the Rylands made invaluable new connections. Soon, they wanted to do even more.
"When we felt ready to make another financial gift, we listened to our friends who work at the university, trusting them to know what is most needed at the time," Sarah says.
Duke softball had only become a Division I varsity program in 2017. Yet head coach Marissa Young was racking up win after win. As Duke's newest varsity sport, the softball program had significant financial needs, from team operational expenses to student-athlete scholarships. The Rylands were ready.
"It is important that our giving has a real impact," says Sarah. "Our gift to the Duke softball program supports women's athletics and meets our family's goals."
"We cannot thank the Ryland family enough for being trailblazers for the softball program – and to Sarah specifically – as a philanthropic leader for women's athletics," said Joe Manhertz, associate athletic director and executive director of Iron Dukes major gifts.
Their investment in creating the first endowed scholarship for Duke softball helps ensure Duke is able to attract the very best student-athletes. The Rylands are laying and building a foundation that will have an impact on Duke Athletics, helping women student-athletes thrive at Duke and beyond.
Since then, Duke softball has had a meteoric rise. Though the most recent season was cut short because of the novel coronavirus, Sarah and Kyle attended a game last fall during the off season. They were able to check out the new facilities and ballfield on East Campus, and experience the spirit and camaraderie of the accomplished team under Coach Young. The Rylands' favorite part of the trip was meeting their scholarship recipient, Dejanae Davis, Class of 2022 and a member of the All-ACC Academic Team.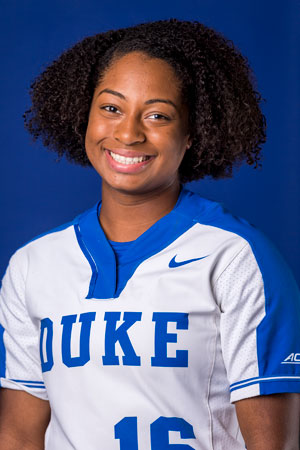 "Dejanae Davis was terrific," says Sarah. "Along with being a top-notch player in dual roles of shortstop and second base, Deja was warm and gracious with a high level of commitment and maturity. Deja has the skills and talents to be highly successful in whatever she pursues."
Sarah and Kyle both say they are very happy to be able to play a small part through a scholarship to ensure that Davis has the resources needed to realize her ambitions both on and off the field.
Making Champions on and off the Field
 
Seeing firsthand the power of education to transform lives, the Rylands have also been longtime supporters of financial aid at Trinity College. Kyle himself was fortunate enough to be a recipient of financial aid while he attended.
"Giving the gift of education to those who cannot afford it is a very rewarding experience," says Sarah.
Reading the notes of gratitude from scholarship recipients, in which students share how appreciative they are for the educational experience they receive at Duke, has been quite moving for the Rylands. In these letters, students discuss how attending Duke has changed their lives by opening up new worlds. Sarah and Kyle say it is just their way of giving back to Duke because Duke has given them so much. For Sarah, empathy is also an important philanthropic driver.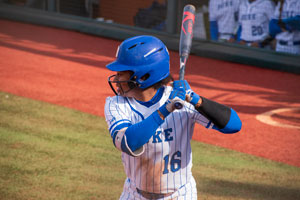 "Empathy plays a contributing factor when women decide to get involved with philanthropy," says Sarah.
As a member of the Duke Women's Impact Network, and a current member of the WIN Leadership Council, Sarah has joined a community of Duke's most philanthropic alumnae who are dedicated to making a difference. Sarah adds that it's important to note that philanthropy does not always need to be financially oriented. Collaborating through time and shared interests is a great way for women to join forces to celebrate not only the end result of philanthropy but the road in getting there. This way, the personal experience, along with the team impact, is lasting.
"For women at Duke, WIN serves as another vital way to become involved with alumni of all ages," says Sarah. "It shapes the future for yourself while shaping others."
Sarah sees the Women's Impact Network as a valuable driver of companionship, community and service, where inspiration and awareness around philanthropic impact are helping the next generation of women lead the way on important and pressing endeavors at Duke.
Certainly for Sarah and Kyle both, being advocates for the university they love has been a home run.