Students Explore Life's Most Important Questions Through New Program for Sophomores
Set deep within the Blue Ridge mountains, far from Duke's campus, a group of almost 40 campers huddled around the campfire ready to discuss the day's activities. Archery, board games and hiking had kept them busy. But now it was evening, and they were tired and ready to eat s'mores and share typical campfire stories — like dealing with academic stress and deciding on a career path.
Originally posted at Trinity College of Arts and Sciences.
Set deep within the Blue Ridge mountains, far from Duke's campus, a group of almost 40 campers huddled around the campfire ready to discuss the day's activities. Archery, board games and hiking had kept them busy. But now it was evening, and they were tired and ready to eat s'mores and share typical campfire stories — like dealing with academic stress and deciding on a career path.
Well, maybe not so typical, as these weren't just any campers, but Duke sophomores on a meditative retreat.
Soon, they would go back to their lives at Duke, schedules filled to the brim with courses, extracurriculars and social events. But for now, they could relax and connect with their classmates and faculty without the pressure of an academic environment.
It was all part of a new program dreamed up by Associate Professor of Classical Studies Jed Atkins, who organized the trip as part of the Transformative Ideas curriculum, which aims to expose sophomores to the kinds of universal truths and questions that everyone faces.
Atkins was teaching a course called The Good Life, and an unplugged weekend in the North Carolina mountains was the ideal way to help notoriously high-achieving Duke students to put ideas into practice and ponder these questions.
Teaching a life well-lived
Led by Atkins and Dean of Humanities William Johnson, Transformative Ideas is a program for sophomores launched by Trinity College of Arts & Sciences in 2021 and supported by The Purpose Project, which is a collaboration between the Kenan Institute for Ethics, the Office of Undergraduate Education and Duke Divinity School.
The three courses offered in the first semester — The Good Life, Ambition and Politics, and Medicine and Human Flourishing — all ask students to think about how their academic interests relate to the enduring questions that change lives, link cultures and shape society. The goal is to probe how an educational experience can foster a life well-lived.
Sophomores are in a particularly crucial point in their Duke experience, explained Atkins, who serves as faculty director for Transformative Ideas. By the time students enter their second year, they can start to become siloed into various degree and program paths and might find it more challenging to connect with other students outside of their fields of interests. Humanities-focused questions offer a solution.
"For me, it's the perfect time," Atkins said. "They're established enough that they can begin to dig in and ask questions about their path and what that trajectory is going to look like. But they still have time ahead of them to move forward through Duke in community and take courses and build on this."
"Sophomore year is when you really start to see changes in the way that you think," said Sasha Gerber, a sophomore majoring in Public Policy Studies who took The Good Life. "When I see the world around me, I just look at it in a much more curious and questioning way, and not just observing things, but digging into them and wondering why things are that way and should they be that way, and what can we do to make them better."
'How can I be a good person for my community'
It turns out collectively asking deep questions is a great way to build community, especially for sophomores in 2022 who started at Duke during remote learning.
"I think it's powerful to have those conversations in community, especially with people of the same age," shared Computer Science major Megan Flanigan.
And the community they reference often extends beyond the classroom. They were learning how to be good citizens outside it as well. Many students shared that class discussions helped equip them in their personal lives, allowing them to relate to friends, coworkers and other students in deeper, more nuanced ways.
"How can I be a good person for my community?" is one of the questions that Flanigan said was sparked by her Transformative Ideas coursework. Considering the question challenged her to think about how her chosen profession will impact society, ultimately leading her to adapt her goals to include nonprofit consulting work.
For a Political Science major like Royal Caswell, Professor Michael Gillespie's Ambition and Politics course allowed him to study political ideas through a robust reading list of classic literature and autobiographies, giving him and other students not merely tactical lessons in politics but insight into the minds and lives of political leaders. The class considered all aspects of their multi-faceted experiences.
"Duke students think that they will make this career the center of their lives forever," Caswell said. "I want to have a more balanced set of ambitions in life — for success in my career, for a successful family life, for giving back to my community."
These are the lessons instructors hope their students will take with them after the course ends. In fact, Caswell said he benefitted so much that he is taking another course, Liberalism and Its Critics, in the Transformative Ideas program again in the fall.
Faculty who 'see us as people'
Collectively embarking on the fundamental questions Transformative Ideas prioritizes can be difficult. Students felt safe to broach these discussions because their faculty created an environment that allowed them to question freely, establishing an unguarded experience between students and professors not always available for students early in their university lives.
"Professors are obviously, first and foremost, instructors, but they don't have to be just that," said Gerber, the Public Policy student. "They can be mentors and friends and maybe your biggest cheerleaders. In this course, they made an effort to see us as people."
"They're no doubt experts," said Michael Cao, a sophomore majoring in Sociology. But what really set them apart for him was treating students as fellow intellectuals, encouraging exploration and challenging them. "That's not something you can find everywhere."
That approach extended beyond the classroom to co-curricular activities that many students participated in, including dinners with faculty and guest speakers, which allowed them to get to know each other in a less formal environment.
By meeting outside of the classroom, students also got to know other faculty. Cao connected with Associate Professor José González, who taught Medicine and Human Flourishing, during the mountain trip, despite Cao not taking his course.
Students weren't alone in the feeling. Faculty greatly benefited from the program, as well.
Bonding over their commonalities rather than the differences between teachers and students allowed both groups to share more openly about their personal lives and the ways the topics discussed affected them.
"The questions that students are going to be wrestling with when they're 30 or when they're 40, those are the things that our faculty are wrestling with," explained Atkins. "As we're thinking about the good life, we're kind of all in this together."
Interdisciplinary education shines through
The communal humanistic inquiry of Transformative Ideas is situated within multiple disciplines, which is one of the reasons the courses have been sought by both STEM and non-STEM students.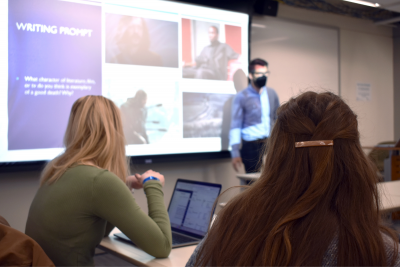 Cao joked that the course he took wouldn't necessarily teach him how to "program a database" or learn "organic synthesis chain reaction." But it did teach him the academic and philosophical tools needed to contextualize his goals, desires and aspirations.
"And I think that, for me," he continued, "this opportunity for introspection and the sort of engagement I had with ideas that I never had previous exposure to is very valuable."
He isn't the only one who felt that way. The feeling was even more pronounced in the more scientifically-focused course in the program, Medicine and Human Flourishing.
Unlike most students in the program, Sophia Dort is a rare senior who took the course in preparation for the medical field. Majoring in both Classical Languages and Chemistry, she encourages other pre-med students to take similar classes, explaining that the merging of medicinal science and humanities helped shape the kind of physician she wants to be.
"The physician can't just sort of be this blank dispenser of pills," she said. "This class will help remind me to always sort of consider the human aspects to be covered. How we see patients is more than just sort of biological organisms that need fixing but as whole people."
Taking Transformative Ideas forward
Now moving into their junior years, digging deeper into their fields of choice and planning for future internships, students who participated in the inaugural Transformative Ideas program are still asking these questions in new settings, equipped with new tools.
Flanigan, the Computer Science major, reflected on the experience through a common Duke phenomenon. Like many, she felt the urge to be swept up in fulfilling requirements and seeking out internships without considering where her interests fit within the expectations placed on her.
Transformative Ideas and The Good Life course gave her tools to step back and ask what she hoped to achieve from her life and future.
"I think it would be such a shame to walk in and go down this narrow pathway and not see all the other doors open," Flanigan said. "If by the end of college, I was in the same mindset as I was when I entered, I would be very disappointed."